Hi friends, I hope you are good and doing well in the gaming. Many of my users ask me which one is better PlayStation 3 or Xbox 360 Console. I am going to share PlayStation 3 vs Xbox 360 in this article (Best Choice?). I do not suggest you either you for PS3 or Xbox 360 because everyone has its own taste and gaming style. Both the consoles PS3 and Xbox 360 have some good and have some bad. So this is totally up to you for which you are going on. I will help you only to give you the detailed information about both of them so that you can choose as per your requirement.
Below I am going to share with you the features, highlights, advantage/disadvantage, and much more things. So, it's totally up to you. Compare them and then thinks about your gaming interest and gaming zone and then go with anyone. As you already heard that saying "nothing is perfect and nothing is 100% correct in this world" So, the same thing applies here with this comparison, and it's totally up to you for which you are going on. So let's start and read all the details carefully.
Highlights

PlayStation 3
Xbox 360
Manufactured by Sony
Manufactured by Microsoft
PlayStation Network is free
Xbox Live has a subscription with flexible price
PS3 has Blu-ray drive
Xbox 360 has Double layer DVDs
PS3 have 12, 20, 40, 60, 80, 120, 250, 320, 500GB or 1TB hard drive space
Xbox 360 has 4, 20, 60, 120, 250 or 320 or 500GB hard drive space.
Supports 7 wireless and/or wired controllers
Supports up to 4 wireless and/or wired controllers
Have PlayStation move Motion Sensing
Have Kinect's Motion Sensing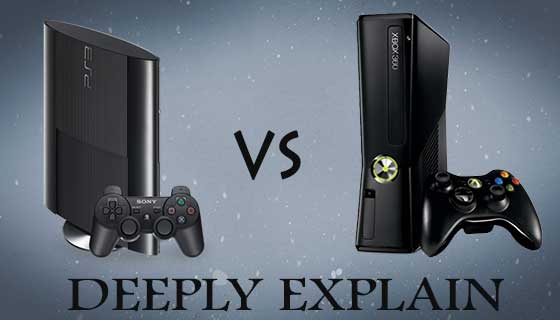 Features

PlayStation 3
Xbox 360
Processor @ 3.23 GHz (8 Cores)
3.2 GHz PowerPC Tri-Core Xenon
Stereo sound. Can support 5.1-channel Dolby Digital (HDMI), 7.1-channel LPCM
Stereo sound, 5.1 Surround, Dolby WMA Pro
7th gen console
7th gen console
Nvidia RSX graphics, with 25g MB XDR main memory and 256 GDDR3 video memory
ATI Xenos with 10 MB embedded eDRAM and 512 MB DDR3 video RAM
DVD, CD, Blu-ray, downloads
DVD, CD, downloads
Has own browser
Has own browser
Wi-Fi Built into every model
As an add-on; built into the S model
It uses IBM designed Cell microprocessor with 3.2 GHz cell w/7 SPEs 2.0 TFLOPS.
PowerPC Xenon Processor
4 x USB 2.0, Ethernet, built-in Wifi
5 x USB 2.0, IR port, Ethernet, Wifi 802.11a/b/g
Supports 480i, 480p, 720p, 1080i, 1080p video quality
Supports 16:9 widescreen 720p, 1080i, 1080p video quality
HDMI output is available
HDMI output is available
Video memory has 22.4 Gbps bandwidth
Video memory has 21.6 Gbps to system RAM; 256 Gbps to eDRAM bandwidth
External HDD support available
External HDD support available
| | |
| --- | --- |
| Xbox 360 Advantages | Xbox 360 Disadvantages |
| It is cheaper than the PS3. | 70% games are for more serious gamers. |
| It has a wider range of games. | 60% games are for ages 16+ |
| Best for playing on standard graphics and does not really need HD or a surround sound system. | Very noisy and buy upgrades |
| it has a good option to play pc games without having to buy a new graphics card every 6 months. | Need to buy an HDD to save game content which is almost $40 |
| | |
| --- | --- |
| PlayStation 3 Advantages | PlayStation 3 disadvantages |
| Reads BD-Rom, DVD-Rom, CD-Rom, super audio CD | Expensive to buy the console. |
| Free downloads and updates. | Suitable only for HD Screens with surround sound |
| Large storage space | Not have extra features with games |
| Wide online community | PS1 & PS2 games do not work |
| Built with heavy-duty | Hacked by the hackers |
| Easy to manage online | Not have many games as other consoles |
Still, if you are looking for my opinion then I recommend you the PlayStation 3 (PS3) console. The reason is that Xbox 360 has only Gears of War series and HALO series. These games are famous for Xbox 360 consoles only. Besides that PlayStation has many famous games. Some of them are God of War series, Uncharted Series, The Last of US, and many more. Besides that all the pros and cons I will give you on the above, so finally, the choice is yours.
Summary:- Finally, I hope that you can easily understand this article and able to select the console for you. Further, if you need any help then you can ask me. I will get back to you as soon as with possible solution. Please like and share my Facebook page and subscribe push notification. Also, bookmark this website for quick access in the future and stay connected with me.