Hi, friends, I hope you are doing well. In this article, I am going to give you the comparison in between the PlayStation 4 and Xbox One Console. The reason is behind is only that my users are regularly asking me which one is the suitable for them. So, I am just giving you the highlights, features and advantage and disadvantage in between them. After that you compare are them and think about your gaming zone and then select any one for you. As per me, all the consoles are good the manufacturer made them as per the customer demand. PlayStation 4 vs Xbox One is always a topic for the users.
Customer demand means, some gamers need some different specification and some want some different specification. So, that the only reason that the manufacturer made these gaming consoles. Most of us purchase the product without any comparison and feedback. Someone tell us that is good and we purchase it without thinking either it is useful for us or not. So, in this article, I am trying to help out my users, so that they can buy the right product for him after PlayStation 4 vs Xbox One comparison. So, let's start.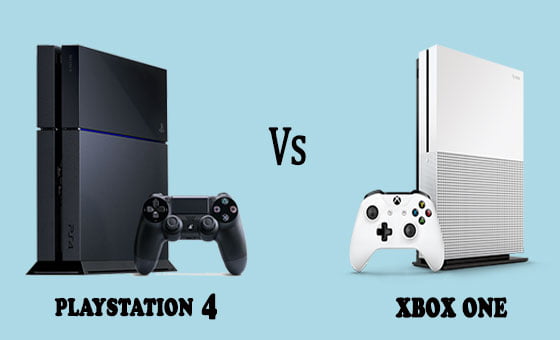 PlayStation 4 vs Xbox One: Highlights

PS4 Console
Xbox One  Console
Manufactured by Sony
Manufactured by Microsoft
5400 RPM SATA II 500GB internal hard drive
Xbox One will be cloud-powered
DUALSHOCK 4 wireless controller
Redesigned Xbox One Controller
Mono-headset for voice chat
Multi-Tasking
Power cable 1.5m, and an HDMI cable 2.0m
Gamer score Porting
HDMI Out, Digital Out (Optical Audio)
Kinect 2 enabled
Not required external power brick
Media and Format Compatibility
PlayStation 4 vs Xbox One: Features

PS4 Console
Xbox One Console
1.6GHz 8-core AMD Jaguar CPU
1.75GHz 8-core AMD custom CPU
1.84 TFLOP AMD Radeon GPU
Integrated AMD graphics clocked at 853MHz GPU
8GB GDDR5 RAM
8GB DDR3 RAM
HDR available
HDR not available
4K not available
4K not available
500GB & 1TB (upgradeable)
500GB & 1TB (supports external)
2 x USB 3.1 USB Support
3 x USB 3.0 USB Support
802.11a/b/g/n/ac Wi-Fi (2.4GHz & 5.0GHz)
802.11a/b/g/n/ac Wi-Fi (2.4GHz & 5.0GHz)
Bluetooth 4.0 Support
Bluetooth 4.0 Support
| | |
| --- | --- |
| Xbox One Advantages | Xbox One Disadvantages |
| Truly slick, fast UI, voice and gesture commands and seamless integration | Refusal to allow self-publishing on Xbox One is a huge mistake |
| Games launched instantly without disc switching due to installs | 24 hours Internet is a major concern |
| Add as much extra external HDD | Huge size of the console |
| Kinect 2.0 included | Used game restrictions |
| Nice controller with surround rumble and overhauled D-pad | Higher price |
| Good track record with online services | Slight lack of power |
| Sharing family is an amazing feature | 24 hours check update will lose your data |
| | |
| --- | --- |
| PS4 Advantages | PS4 Disadvantages |
| No worries about online requirement | Lack of next-gen vision |
| No hassles for used games | General lack of reliability in term of online services |
| Cheaper then Xbox One | PS4 does not support audio CDs |
| Slight Power Advantage over Xbox One | Lack of launch window exclusive games |
| Much improved control pad | Lack of support for external Hard Drives |
| Touchpad should help with UI/media/web apps control | Throwing their one innovation under the bus to score cheap points |
| Much smaller box | Small box with little ventilation |
Still, if you are looking for my opinion then I recommend you the PlayStation 4 (PS4) console. The reason is that Xbox One has only Gears of War series and HALO series which are famous for Xbox One consoles only. Besides that PlayStation has many famous games like God of War series, Uncharted Series, The Last of US, and going to release new games like God of War in March 2018. All the pros and cons, I give you on the above. So, the final choice is yours.
Summary:- Finally, I hope that this article will help you to find the exact and useful console for you. Besides that, if you need any assistance or have any query then write me, I will revert back to you as soon as possible with the best solution. Please like and share my Facebook page and subscribe push notification. Also, bookmark this website for quick access in the future and stay connected with me.