Looking for PlayStation 1 Emulator for your PC or android device? You will find PS1 emulator for download in many names such as ePSXe, Mednafen, PCSX, pSX, PSXeven, RetroArch, VGS XP, etc. According to the public review, ePSXe is the best PS1 emulator. But here comes the question what is the PS1 emulator/ePSXe? ePSXe (enhanced PSX emulator) is a PlayStation video game console emulator for x86-based PC hardware with Microsoft Windows and Linux and devices running Android.
ePSXe Changelogs
Updated the x86 recompiler to use the same recompiler as in the rest of the versions (Android, Linux x64, Mac). Now it should be easier to fix problems in all versions.
Ported the local netplay from Android (Experimental). This version is compatible using local netplay with the rest of ePSXe versions from version 2.0.5 (MacOSX, Linux x86, Linux x64 and Android – version 2.0.6). (Additional info the ePSXe docs)
Ported the GPU CORE threading mode from the Android version. The PC CPUs are faster than Android CPUs, so it will improve less FPS. (This option is better when the CPU is slower).
Added new threading modes to the Pete OpenGL2 Core Plugin. It includes a basic 2-thread mode, and 2 extra modes adding soft/hardware effects. (It could improve some effects, for example, the burning photo at the start of Castlevania)
In the INPUTCORE plugin, swapped the vibration actuators when using the Xinput mode (to match to real PSX Left/Right). Besides when using a gamepad in digital mode, now you can use the left stick as the DPad.
Fixed the >2GB PBP ROMs support. Now it should be able to run the PSX2PSP isos bigger than 2GB as Final Fantasy VIII PSP pack.
Fixed the cheat codes support when running on the interpreter mode.
Added a new option in the cheat codes window to download cheat codes from the ePSXe version
Fixes to the core made more games playable or better working. (WING COMMANDER IV, MONKEY HERO)
ePSXe Installation
It doesn't have any installation wizard because ePSXe is a standalone program that can be easily run from your computer or android device. All you need to do is just extract the zip file on your computer desktop or any specific folder. We do not recommend you extract or put your emulator file in the Windows program folder. Double-tap on ePSXe and you are ready to configure your emulator according to your need or hardware.
ePSXe configureation
To load PS1 game CD (ISO, BIN format) game BIOS & Plugins boot require. That you can do by following the below steps.
Go to Config ↦ Wizard Guide
Click on Config
Select BIOS acording to your need scph1001 – (USA recommended)
Conig Video acording to your hardware
Leave default sound or config acording to your need.
You can test and next Cdrom config.
Config your controller.
Go to File ↦ Run ISO and locate your game file.
FAQs
Can I play any game on my PC?
Yes, once you have the files and follow the instruction. Emulator performs as per your system requirement.
Does ePSXe support multiple game formats?
It supports multiple CD-ROM formats (.bin/.cue, multi-bin/cue, .mdf/.mds, .ccd/.bin/.sub, .pbp, etc).
Do I need a high configuration system?
We have mentioned below the Minimum and recommended system requirements. Your system must meet minimum system requirements to run the game smoothly on your PC/Laptop.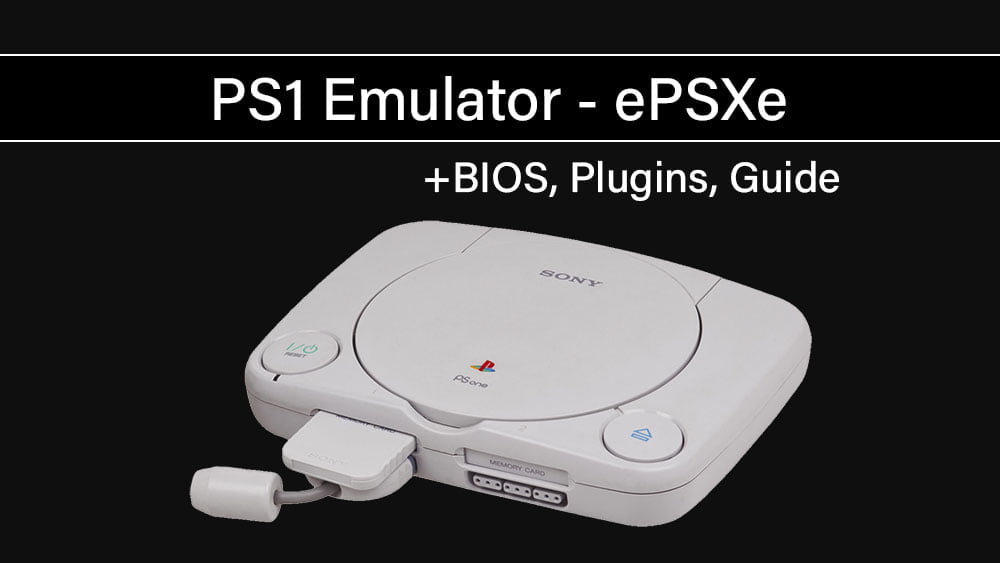 ePSXe's PC requirements
Minimum System Requirement
Recommended System Requirement
SmartPhone Minimum Requirement
OS ↦ Windows XP SP3
CPU ↦ Intel Pentium III CPU
GPU ↦ 1 GB
RAM ↦ 2 GB
DirectX ↦ DirectX 8
Storage ↦ 1GB
OS ↦ Windows 7/10 32/64Bit
CPU ↦ i3 5th gen 2.4Ghz
GPU ↦ 2 GB
RAM ↦ 4 GB
DirectX ↦ DirectX 9
Storage ↦ 1GB
Processor ↦ ARM or x86 (Intel Atom)
OS ↦ Android 2.3.3 or newer
RAM ↦ 256 MB
Summary: I hope now you are enjoying your PS1 games on PC using ePSXe emulator. You can write your question/issues in the comment section. Like our Facebook page and Subscribe to our YouTube channel and stay connected with us.