Hi friends many of you are still not aware of the MiniWeb HTTP server. So, in this article, I am going to tell you about the Mini Web HTTP server and its some features and usage in the below. Mini web HTTP server is a mini HTTP server implementation written in C language. Mini web HTTP server provides low system resource consumption, high efficiency, good flexibility and high portability. It is also capable to serve multiple clients with a single thread, supporting GET and POST methods, authentication, dynamic content generating.
MiniWeb HTTP server is an embeddable, cross-platform, tiny HTTP (subset) server execution, having some real applications on x86 Windows/Linux, ARM, MIPS platforms, either embedded or standalone. MiniWeb HTTP server is a free software application from the Social Networking subcategory, part of the Webware category. The Mini Web HTTP server is currently available in English and it updated from time to time. The program can be installed on All 32-bit MS Windows and Linux/BSD/UNIX-like OSes.
MiniWeb HTTP server Features:
Small footprint HTTP server is written in pure C language
GET & POST actions with basic HTTP authentication
Easy-to-extend with URL handler callbacks
Cross-platform and scalable
Serial port access via HTTP
Integrated UDP server interacting with HTTP server
How to use MiniWeb Server?
Extract MinWeb server files in one folder.
Go to the miniweb\htdocs folder.
delete Upload, uploaded, index file.
Put your HTML, Javascript or which you want to use the file in miniweb\htdocs folder.
Run MiniWeb server exe with the administrator.
Remember your IP address which MiniWeb display you.
Open your (Laptop, Android phone, iPhone) web browser.
Put the MiniWeb IP address in the address bar.
access your files.
enjoy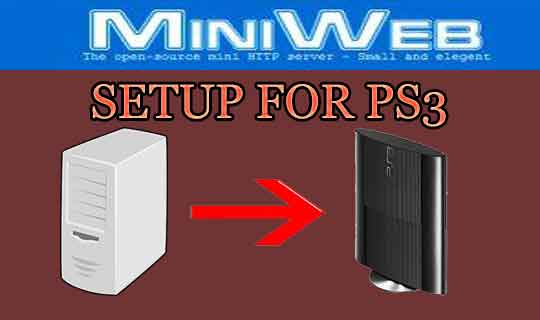 FAQs
Q: Why we need MiniWeb?
A: If you are looking for PS3 Jailbreak. Then we need MiniWeb. MiniWeb helps you to access your files through a web browser. I already shared with you how to jailbreak PS3 Fat and slim and How to Jailbreak PS3 Super Slim.
Q: MiniWeb is not working for me. What should I do?
A: If Mini web is not working for you and your browser is unable to access files. Then try with a different computer. Sometimes it does not work with windows bug. 2nd make sure your windows system 32bit or 64bit. Because sometimes mini web won't work in 32bit. 3rd make sure both devices connected to the same internet connection. 5th try with the different internet connection.
Q: Can I also use it on my iPhone, tablet or android phone?
A: Yes, easily you can use mini web for your iPhone, tablet and android phone. Just follow the how to use an introduction and make sure you are following all the steps carefully.

Summary:- Finally, I hope that you can easily understand the Mini Web HTTP server. Further, if you have any query then please write me. I will get back to you as soon as possible. Please like and share our Facebook page and bookmark this website for quick access in the future. Also, subscribe push notification for regular updates on software and tools for free.