Cobra GenPS3iso software allows you to convert any PS3 game folder to ISO. I am sharing with you on this website PS3 games. But my regular visitor requests me to PS3 game ISO. So, guys here is the solution for you. Just download any of your favorite PS3 games from this website and convert them according to your need.
Cobra GenPS3iso v2.3 and v2.5 convert any game folder to ISO. Just read the whole article and follow the steps, step by step. Best of all it's easy to use and working 100%. I would like to cover some major question answers about Cobra GenPS3iso v2.5. Please spare some time for reading major question answers before download Cobra GenPS3iso V2.5.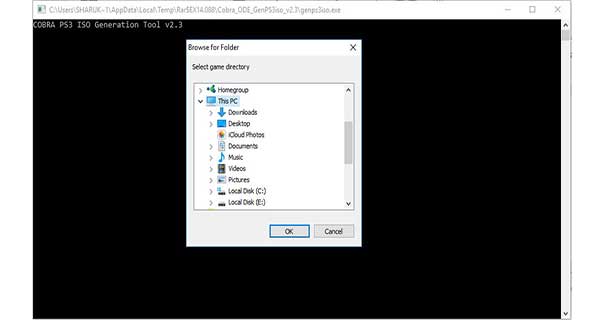 FAQs
Will Cobra GenPS3iso work?
Yes, this CGenPS3iso is a tested software and the result is positive. I test it by myself. I convert 4 to 5 games for the RPCS3 emulator and it's working.
How does Cobra GenPS3iso work?
It's open-source software. Look like CMD. When a user opens GenPS3iso then it will look like CMD and ask you to the game folder.
Is it password protected?
Yes, it's password-protected due to security reasons. Please use the password to extract Cobra Gen PS3 ISO. The password is www.ps3jailbreakdownloadfree.com
Do I need to bypass surveys?
No, you do not need to bypass any kind of survey. As I mentioned in my all article. Everything is for free and free of the survey. Because I know surveys is head pain and west of time.
Why do I need PS3 games ISO?
If you want to play PS3 games on your PC using an RPCS3 emulator. Then you need PS3 games ISO because the RPCS3 emulator requires PS3 games ISO file.
How to convert a game folder to PKG?
I already published an article about how to convert a PS3 game folder to PKG using a PS3 converter bat. Please download the PS3 converter bat and read the whole article before using the software.
What is RPCS3?
RPCS3 is a PS3 emulator that allows you to play PS3 games on your PC. The RPCS3 emulator is tested, emulator. If you want to play PS3 games on your PC. Download now RPCS3 emulator for free
How to use Cobra GenPS3iso V2.5?
Extract GenPS3iso V2.5 on your computer desktop using an unzipper
Go to the extracted folder and find run exe
Open GenPS3iso
Select your game folder (That you want's you convert a game folder to ISO)
Choose export file location.
Press enter button.
Now, wait for the finishing process. It will take some time and it depends on your game data. Make sure you have the game copied from DVD.

Summar:- I hope guys, this article helps you to understand how to use Cobra Gen PS3 ISO v2.5. If you have any questions or queries related to this article. Please ask us and we will help you to resolve your problem. Like our Facebook page and subscribe to our newsletter for the future updates.