Hi, guys, I hope you all well. As I share with you in my last article PS3 PexPloit lite and PS3 PSN "PlayStation Network" stuff. But this time I am sharing with a latest and very useful software, called PKG viewer. Many people ask me where to get a PS3 edat file for the PS3 full game. Actually, everything on your computer screen already, When you open PS3 PSN stuff you will see the game list. When you select any game, PSN Stuff show you game size and PS3 game .rap file with all games.
So, PS3 game .rap file is the data file. But you can get PS3 game edat file without using PKG viewer. PKG viewer allows you to view PKG file. When you open an edat file using PKG viewer you will see the edat file. I am sharing with you PKG viewer in this article. But before I want to cover all the major question answer which my many visitors ask te. So, let's get started.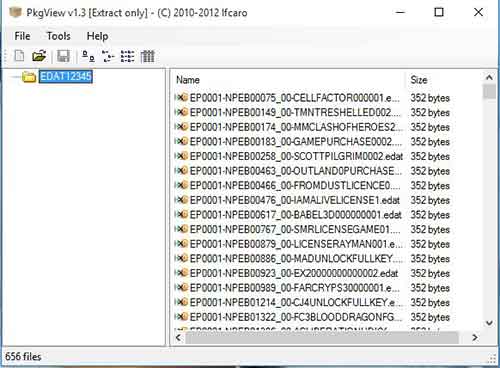 Question answers:
Q: What is PKG viewer?
A: PKG file viewer is a simple software which allows you to view what is inside PKG file.
Q: Is PKG viewer free?
A: Yes, PKG file viewer is free. It will never ask you for any kind of payment. So, don't worry about the paid PKG viewer. It has all the future which you want without any cost.
Q: Why I need PKG viewer?
A: Well, when you download any PS3 game using PSN stuff. Then you get only PS3 PKG game or PS3 demo games with many formats such as C00, PKG, DLC and other. If you install a direct PS3 game using PexPloit lite on your OFW version. Then your console says then content reviewed on PlayStation Store. So, you have to patch edat file into your console to extract PS3 .rap file using PKG file viewer and you get a PS3 edat file.
Q: Will it ask to complete surveys?
A: No, you no need to complete any survey for PKG viewer. I know the survey is a head pain, visitor expands his much time to complete the survey and got nothing. Because the survey is not so easy.
Q: Is it password protected?
A: Yes, this file can ask you to put a password for extract PKG file viewer. The file is password protected due to a security reason. If PKG file viewer asks you the password. Please use the complete website URL for extract PKG viewer.
Q: Can I rename Edat file?
A: No, do not rename Edat file. Because when you extract PKG file then you will see a game ID, Example – NBPU8876. If you rename Edat file. Then it will not work. Mean it's will not patch with your game and you can't Play a full PS3 game on your console OFW version.
Q: How to use Edat file?
A: When you are going to install a PS3 game using PexPloit lite and you will see four tabs. Backup, PKG, Edat, Username. So, select your backup file first. 2nd Select your PKG game file. 3rd Select Edat file.
Q: Why didn't I see my selected PS3 game .rap file?
A: The Much PS3 game does not require Edat file for Play full PS3 game on your console. So, don't worry about that. Simply download a PS3 game and install using PexPloit lite. Because some PS3 games do not require Edat files. Example – Limbo, Planet vs Zombies.
How to use PKG viewer?
Extract PKG viewer on your computer desktop using unzipper.
Run PKG viewer with the administrator.
Open PKG file, File>Open
Extract PKG file on source folder or select any folder where you want to extract PKG file.
Go to extract folder and save it to your computer where you want to store.
If you didn't understand how to use PKG file viewer or any other problem then freely contact us. I will help you to resolve your problems.

Summary:- Finally, I hope guys this article helps you to understand what is PKG file viewer and why we need it and how to use PKG viewer. If still, you have any question about PKG file viewer. Then please share with me to leave a comment in the comment section. Like my Facebook page and subscribe to my newsletter for the future updates. Share with your friend to inform them. Thank you in advance.