In the realm of gaming enthusiasts, the PlayStation 5 (PS5) has undoubtedly captured the hearts of millions worldwide. With its powerful hardware and immersive gaming experience, it has become the center of attention for tech-savvy gamers and hackers alike. One of the recent advancements in the PS5 hacking scene is the FTP Server Payload, known as FTPS5. In this article, we will explore the latest update to FTPS5, version 1.3, and how it enhances the capabilities of your hacked PS5.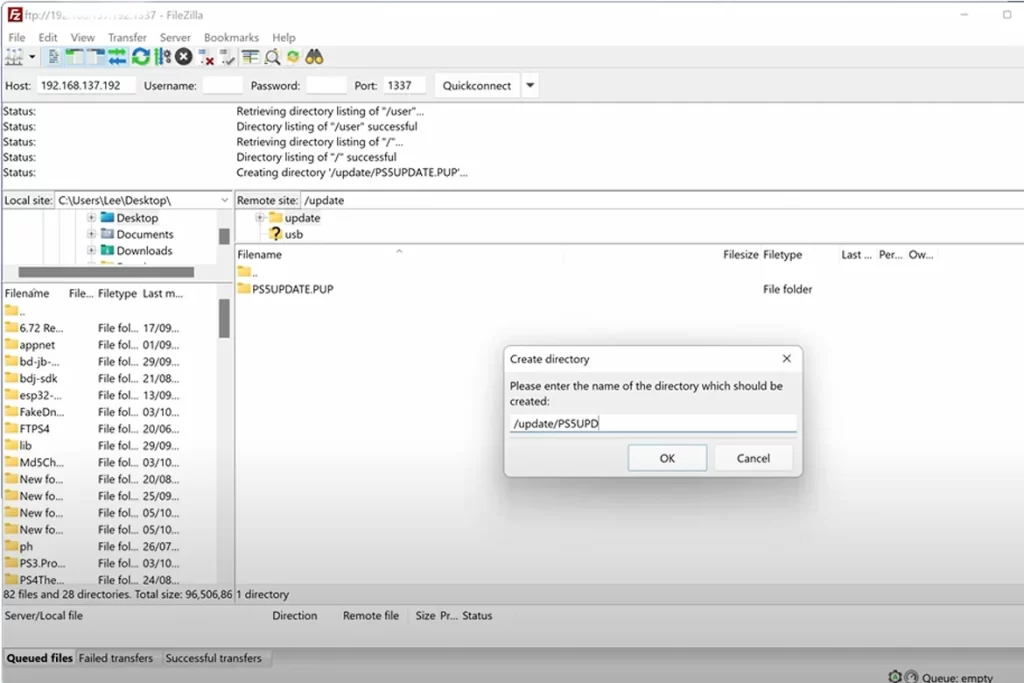 Understanding FTPS5
FTPS5 serves as an FTP Server specifically designed for hacked PS5 consoles. With this remarkable tool, you can effortlessly browse, copy, and even modify the content of your PS5's hard drive, all from the comfort of your PC. This means you can manage your PS5 files more conveniently, unleashing a world of possibilities for customization and personalization.
What's New in Version 1.3
The latest release, FTPS5 version 1.3, introduces a significant enhancement by adding Read/Write support for the System_ex partition. The System_ex folder contains crucial files necessary for the smooth functioning of the PS5 system. The inclusion of read/write access to this folder in FTPS5 1.3 is a game-changer, allowing users to interact with these critical files safely.
Exploring System_ex
The System_ex folder houses essential files that contribute to the seamless operation of your PS5 console. However, it is essential to exercise caution while accessing these files, as any unintended modifications could lead to system instability or other undesirable consequences. Always make sure to back up your files before making any changes, and unless you are well-versed in PS5 file structures, avoid modifying or deleting any files within this folder.
Files within System_ex may include assets utilized by the main menu, such as sounds and firmware for the DualSense controller, among other critical components that make your PS5 experience exceptional.
Downloading FTPS5 1.3
To take advantage of FTPS5 version 1.3, you will need a hacked PS5 console. For those seeking guidance on how to acquire one, there are various sources online offering valuable insights and tips. Once your PS5 is hacked, you can download FTPS5 v1.3 from reputable platforms like Echo Stretch's GitHub repository. Be sure to follow the installation instructions carefully to ensure a seamless experience.
To access the FTP server, you will need to download the compiled binary from the provided link. The source code is also available for those interested in exploring the inner workings of the FTPS5 application.
Running the PS5 Exploit
Running the PS5 exploit requires a level of technical expertise, but don't be discouraged if you're new to the world of hacking. There are comprehensive guides available online that walk you through the process step-by-step. Additionally, these guides often include instructions on loading an ELF (Executable and Linkable Format) file, like the FTP server, which grants you access to the FTPS5 functionalities.
Conclusion
In conclusion, FTPS5 version 1.3 is a remarkable tool that enhances the capabilities of your hacked PS5 console. With read/write access to the System_ex folder, users can now interact with critical files responsibly, making customization and personalization of their PS5 experience a reality. Remember to proceed with caution and backup your files before making any changes to ensure a smooth and enjoyable gaming journey.
FAQs
Is hacking my PS5 legal?
Hacking your PS5 to install third-party software or homebrew applications can void the warranty and may breach the terms of service. It is essential to understand the potential consequences before proceeding.
Can I revert changes made to the System_ex folder?
If you encounter any issues after modifying files in the System_ex folder, restoring the backed-up files should bring your PS5 back to its original state.
Where can I find a hacked PS5?
Hacked PS5 consoles may be available from various online sources. However, we strongly advise caution and recommend thoroughly researching the seller's credibility before making any purchases.
Is there a risk of damaging my PS5 during the hacking process?
Hacking any electronic device carries inherent risks. Follow reputable guides and exercise caution to minimize the chances of damage to your PS5.
What other applications can I run on my hacked PS5?
Once your PS5 is hacked, you can explore a plethora of homebrew applications, emulators, and other exciting tools that are not available on the official PlayStation Store.